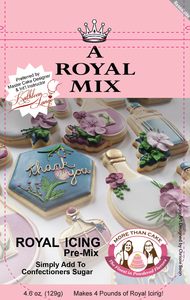 A Royal Mix, royal icing pre-mix 129g
Regular price $19.95 Sale
 WHAT IS A ROYAL MIX?   It's used in place of traditional meringue powder,  but without all the additives.   It's used exactly the same way.  But just like a meringue powder you can use it in your favorite recipe!     It's perfect for flooding and piping.  
Like all products, the recipe on the bag is there for those that don't have a favorite recipe or have never worked with Royal Icing.   
 A Royal Mix has Been NOMINATED for Product Excellence 2022 for the Cake Masters Magazine Awards!    We are so excited and humbled to be nominated!
 This 129g bag is our newest size, producing 4 lbs of icing   
 
Add a Royal Mix to 10X confectioners sugar to create a recipe size of 2 cups - 4 lbs.  Tastes incredible with our Perfect Palate powdered flavors!  It was created to give the user more creative control and savings over the current pre packaged 1 lb mixes.recipe size: 16g to 2 cups of 10x confectionary sugar. (Patent Pending)       www.MoreThanCake.Store